California registration services
Visit your local AAA branch for California DMV services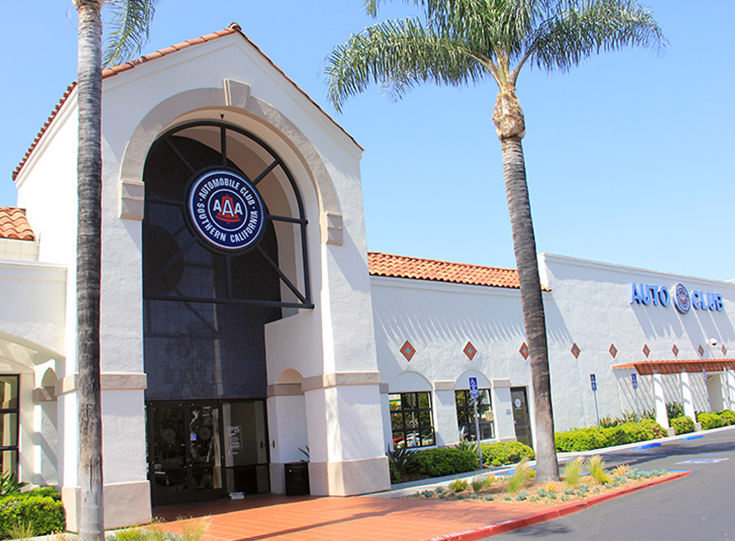 AAA can help with registration renewal, duplicate registrations, vehicle transfers, & more
Save time by taking care of select registration needs at your local branch instead of going to the DMV.1 No need to make an appointment—just make sure to bring a Visa or Mastercard credit card2, cash, or check payable to the DMV.
AAA branches offer popular DMV services:
AAA branches also offer these DMV services: 
 
New and used boat transfers
Release of liability
Replacement license plates
Disabled person parking placards
Disabled person license plates4
Personalized license plates5

Some services are only available at the DMV

AAA Approved Auto Repair smog checks
Our AAA Approved Auto Repair network also has many facilities throughout Southern California that can assist you with smog and repair services.
Need a smog check?
If your DMV renewal notice indicates you need a smog check, we can help. Our Costa Mesa and Los Angeles AAA branches perform California Bureau of Automotive Repair STAR Certified Test-Only smog checks by trusted, highly trained technicians.
Costa Mesa
3350 Harbor Blvd.
Monday - Friday
8:30 a.m. - 4:15 p.m.
Now open
Los Angeles
2601 S. Figueroa Street
Monday - Friday
8:30 a.m. - 4:15 p.m.
Now open
Members receive a $10 discount.6 Call 1-877-428-2277 for pricing and types of vehicles we can smog check.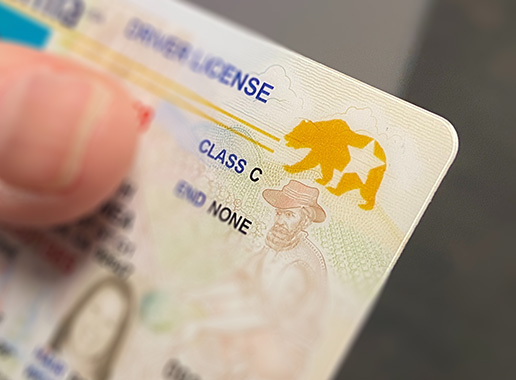 The REAL ID Act of 2005 established new standards for state-issued driver's licenses and identification cards. Starting May 7, 2025, travelers 18 and older need a REAL ID card or other federally approved document such as a valid U.S. passport, passport card, or military ID to board domestic flights or enter military bases and most federal facilities.

A REAL ID is not required to continue driving, but can only be issued by your state's department of motor vehicles (or equivalent).
AAA members can complete the REAL ID process at select branches. Start the process by completing the online application, then scheduling an appointment at a participating AAA branch. This member-exclusive benefit is only available for a limited time, so read our REAL ID step-by-step guide and get started today.
Complete the REAL ID process at these AAA branches
Alhambra
Arcadia
Camarillo
Chatsworth
Chino
Costa Mesa
Fullerton
Inglewood-Ladera
Laguna Hills
La Quinta
Long Beach
Los Angeles
Manhattan Beach
Northridge
Rancho Palos Verdes
Riverside

San Diego - Clairemont
Santa Barbara
Before going to a branch, follow the step-by-step guide to complete the application, upload the necessary documents, and if needed, pay the required fee. Once prompted by email, schedule your appointment at a participating AAA branch, and bring your confirmation code and original uploaded documents.
Can I renew or replace my driver's license or ID, or get a DMV printout at a AAA branch?
+
AAA cannot assist with driver's license or ID services including, but not limited to driver's license renewals, replacements, and/or DMV printouts. These transactions must be handled at the DMV.
Can I renew my vehicle registration at AAA?
+
AAA can handle almost all vehicle registration renewals for members, possibly even those that are late by days, months, or even a few years. Bring your renewal notice or an old copy of the registration to a AAA branch, and you'll receive your new registration and tags once the process is complete.
AAA can help members start the registration for a vehicle that needs a smog check. However, if you've paid your registration with the DMV and just completed a smog check, 30 days must pass before AAA can provide a new copy of your registration and new tags. 
If you need to drive a vehicle that has an expired (or nearly expired) registration, you may be eligible for a Temporary Operating Permit.
Can I renew my spouse's or child's registration at a AAA branch?
+
AAA can assist if both you and the vehicle's registered owner are AAA members, and you supply a DMV renewal notice or substitute document such as a registration card.  
My registration or title is missing or stolen. Can I get a replacement at a AAA branch?
+
In almost all cases, AAA can help members replace the registration or title for a vehicle they own. AAA can help members submit the paperwork to request a duplicate title, but the duplicate title will be mailed directly from the DMV, and typically takes 4 to 6 weeks to be mailed to the registered address.
What are the registration fees for my vehicle?
+
How can I sell or buy a vehicle to or from a private party, gift my vehicle to a relative, or keep or sell a vehicle I inherited?
+
AAA can help members transfer a used vehicle or boat title between two private parties, change the title for an inherited vehicle, or add or remove a name from the title in almost all scenarios. Please note that while AAA can handle title transfers for salvage vehicles, we cannot change a title from regular to salvage. 
Can AAA issue or replace permanent or temporary disabled placards; or issue, replace, or transfer disabled plates?
+
AAA can assist members in almost all cases.  Please bring all necessary documents to the AAA branch. The applicant or caretaker assisting with the transaction must be a AAA member.
Can I order or transfer custom plates through AAA?
+
Members can order, transfer, and check the status of custom, legacy, and custom legacy plates at a AAA branch.
Can AAA put my car into or take my car out of Planned Non-Operation (PNO) status?
+
Members can go to a AAA branch for help filing an Affidavit of Non-Use/PNO or removing the PNO for filing with the DMV.
What forms of payment are acceptable for DMV services?
+
AAA accepts Visa or Mastercard credit cards2, cash, or personal check for DMV services; debit cards cannot be accepted.
What services must be done at the DMV?
+
Permit and license tests
New driver's licenses
Driver's license renewals
REAL ID
New vehicle registration
Vehicle safety inspections
Correctable violation ("fix-it" ticket) sign-off
Select correctable violation payments
Out-of-country vehicle (grey market) conversion
Dealer transfers
Salvage certificate
Original (brand new) and out-of-state off-road vehicle transfers
You can make a DMV appointment by calling 1-800-777-0133 during business hours or by using the DMV's online appointment system.
Do AAA branches carry copies of the DMV's California Driver Handbook?
+
Yes! AAA members may visit a branch to get a copy of DMV's California Handbook.